Regular price
$220.00 USD
Regular price
Sale price
$220.00 USD
Unit price
per
Sale
Sold out
Obtain the ultimate saber experience with this impressive Vulcan Lightsaber.
This is an impressive replica of an initial saber. The saber is beautifully made and features a single-tone hilt with a beautiful black matte coating from the emitter to its pommel giving it terrific look. Its saber blade gives you a very bright and strong shade with a color-cycle feature. Unlike the saber that has a rotational button for digital controls, this version has a button, much simpler. It has a comfy weight that is equally dispersed throughout the handle, making it a dependable two-handed wield saber. Although this saber is favored mostly by grown-up female wielders as this replica is based upon saber, any individual can possess it. This exceptional saber is superb as a display screen in your collection, a dueling saber, or as the perfect partner for your costume.
We are increasing its remarkable collections of sabers at a practical price.and we are proud to provide our saber, one more item of beauty. This version of saber doesn't have the claws that border its blade socket, instead, the emitter is cleaner-- round with a gear-like section around its emitter that likewise supplies security to the hands. The handle is 27-centimeter long and has a smooth hold section with a comfortable choke-point, producing an exceptional grip for spins and also hectic battling. The saber's pommel was made to provide the saber an ideal equilibrium, in weight and also its look. This replica is constructed to look like the initial saber and has been built from exceptional top quality hilt materials, duel-grade and shatter-proof Polycarbonate blade, and also superior electronic devices technology offering the saber all the wonderful effects. This is a saber powered by the Soundboard that uses the greatest saber modern technology. You'll be impressed by its saber blade that provides this saber an incredible realistic effect that scrolls backwards and forwards throughout ignition as well as retraction. Our Soundboard is pre-loaded with our program that includes a selection of font styles and illumination impacts. With its lovely style and also impressive attributes, this amazing lightsaber is best for cosplays and also battles, and for those that are seeking to broaden their lightsabers collection.
FUNCTIONS
The Vulcan Lightsaber's features include Pre-Power ON, Blaster Deflection Effects, Lock-up Effect, Flash-On-Clash Effects, Volume Adjustment, Light Effective Adjustments, Force Sound Effect, Background Music, and Smooth Swing Effect.
FEATURES
Airplane-Grade Hilt - Made of high quality Aluminum Alloy 6063 material, 38cm length
Combat-Grade Blade

 - 

Made of high quality 36″ Polycarbonate material, 

3 millimeter thickness and 1 inch outer diameter
Brilliant  Light Colour

 - 

Super Bright 12 Watts RGB LED, Premium LED of infinite colors, 12 Preset Colors For Quick Selection
Changeable Light Effect - Neutral light, Stable and Unstable color

High-Quality Sound -Advance Sound Board With Premium Sounds, Motion Sensor Smooth Swing Sound
Multiple Sound Modes

 - 

9 Sets Sound Fonts and Mute (Darth Sidious, Leia, Kylo Ren, MandalorianDarksaber,General Kenobi, Cal Kestis, Darth Vader, Count Dooku, and Rey Skywalker)
Advanced configuration

 - Durable Internal Electronic Chassis
Premium Charging Mode

 - 

In-Hilt Recharge and Fast–Charging USB Charger, 3600mAh 18650 3.7V Safety Protected Battery
INCLUDED IN THE PARCEL
✓ Lightsaber Hilt (1)
✓ Polycarbonate Blade (1)
✓ USB charger (1)
✓ Hex wrench and screw set (1)
Share
View full details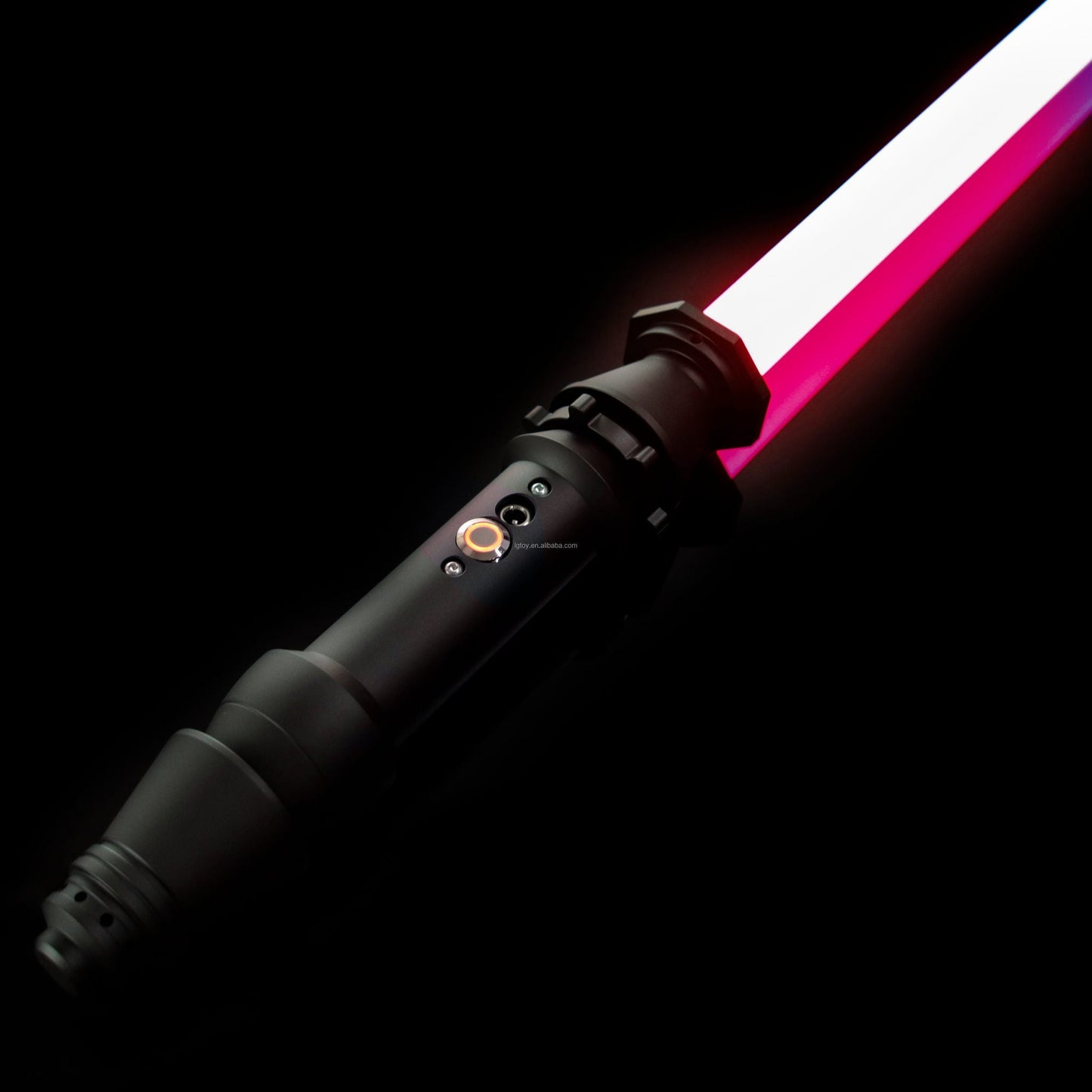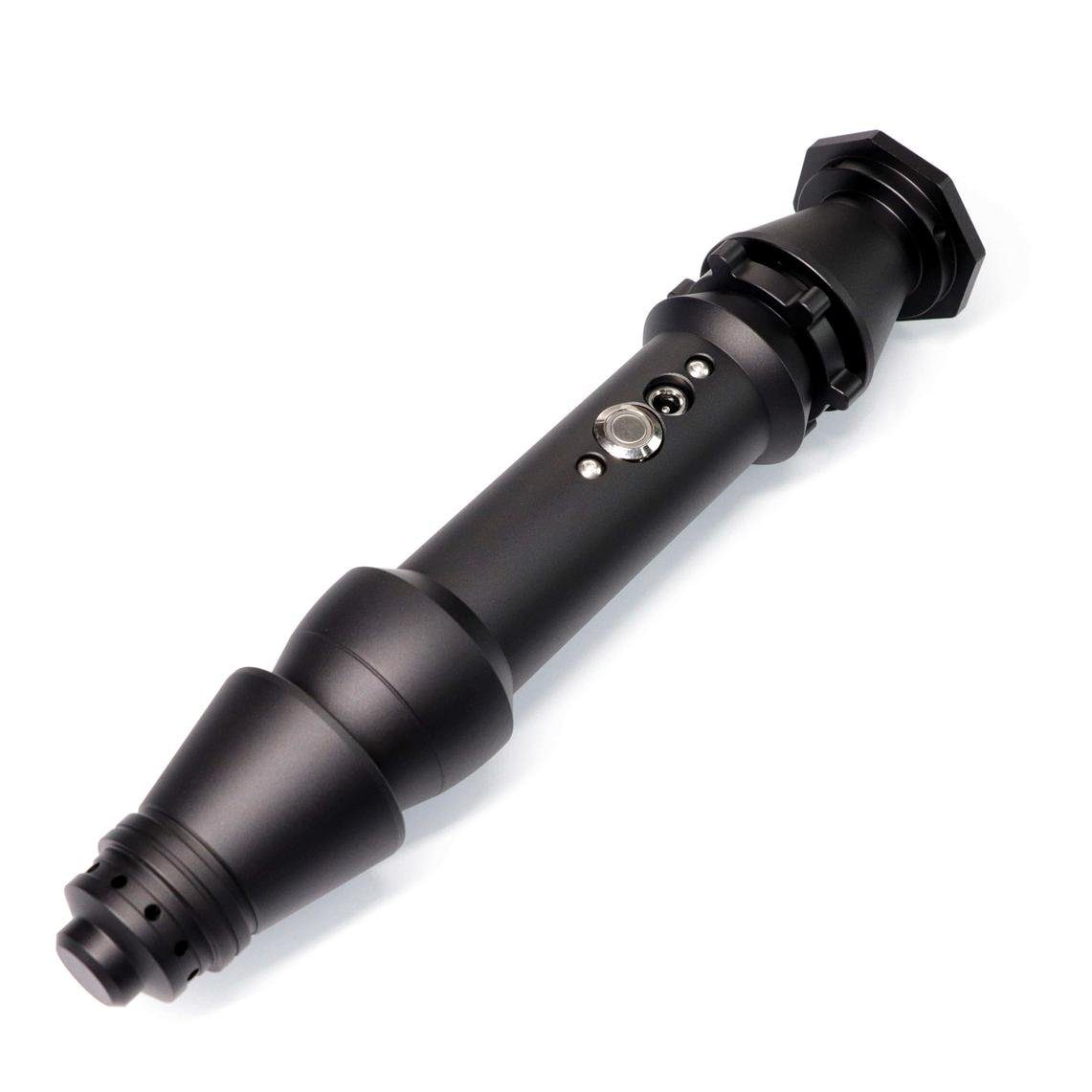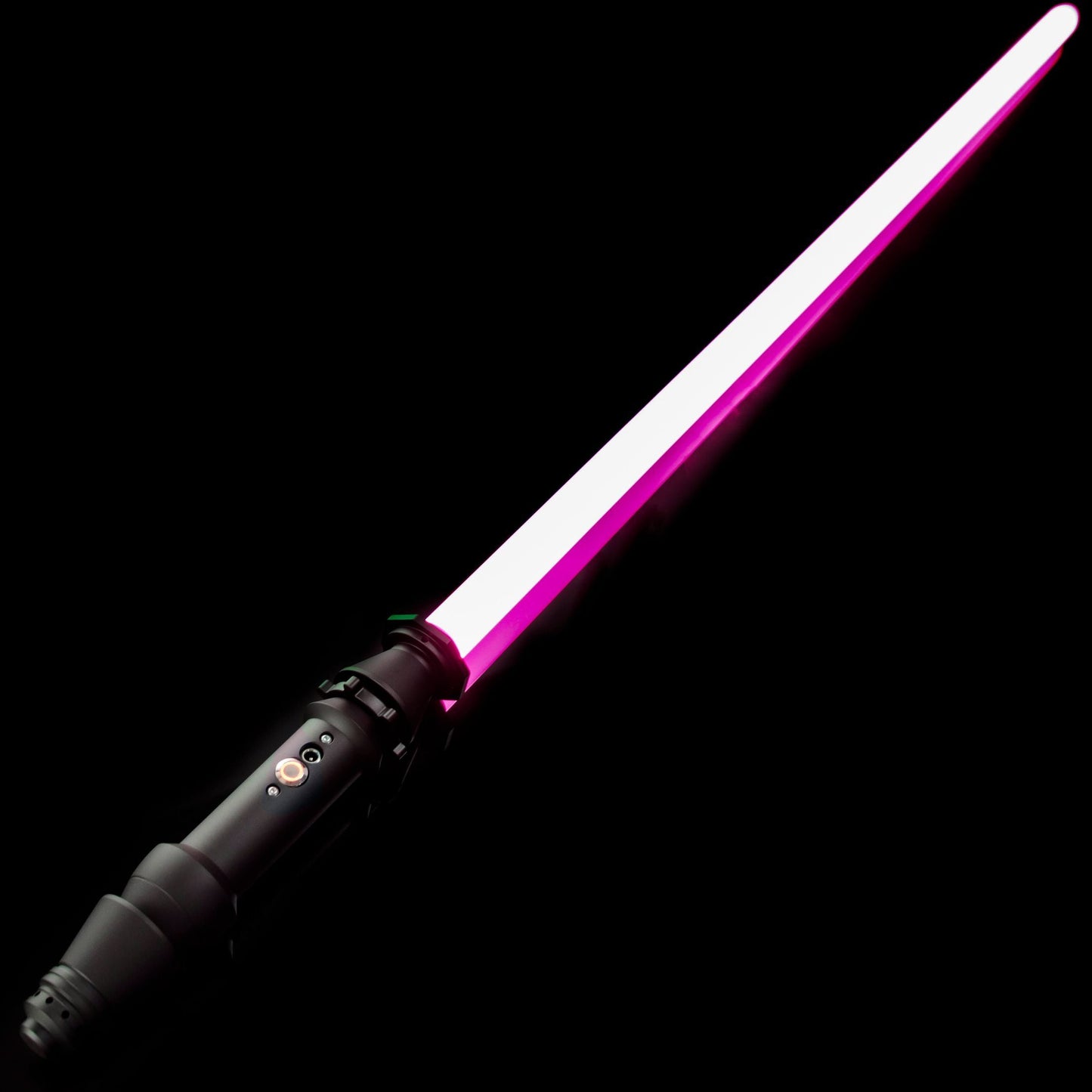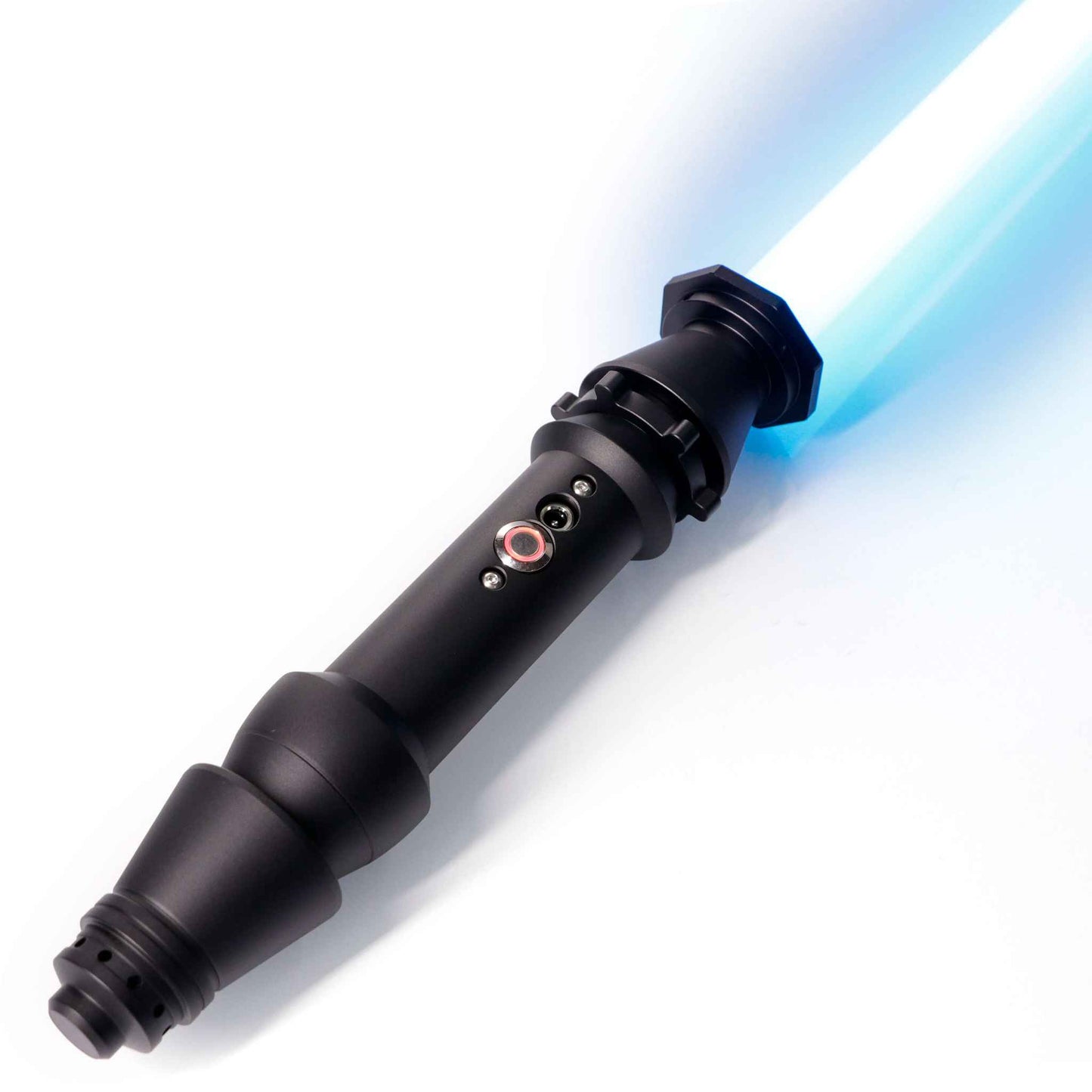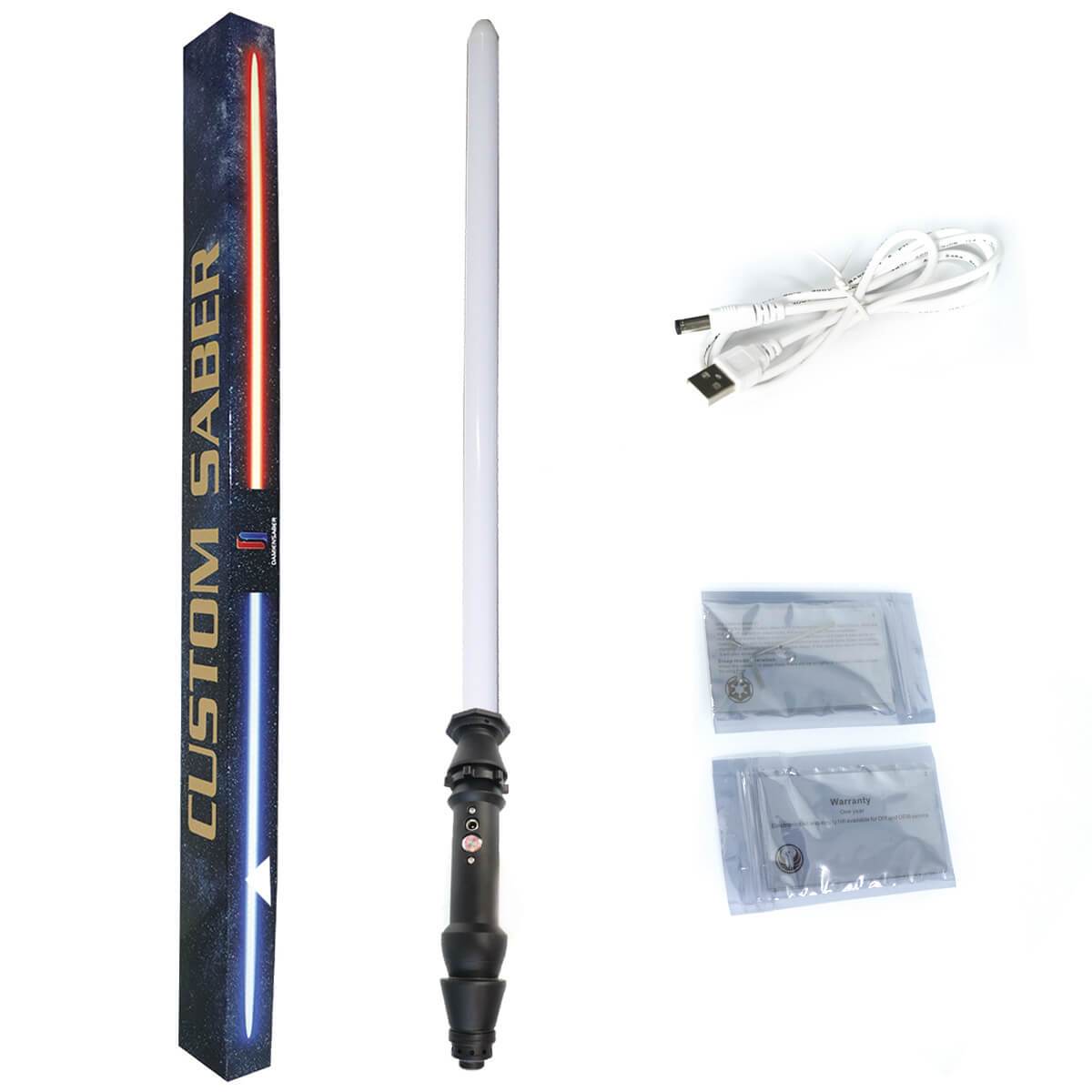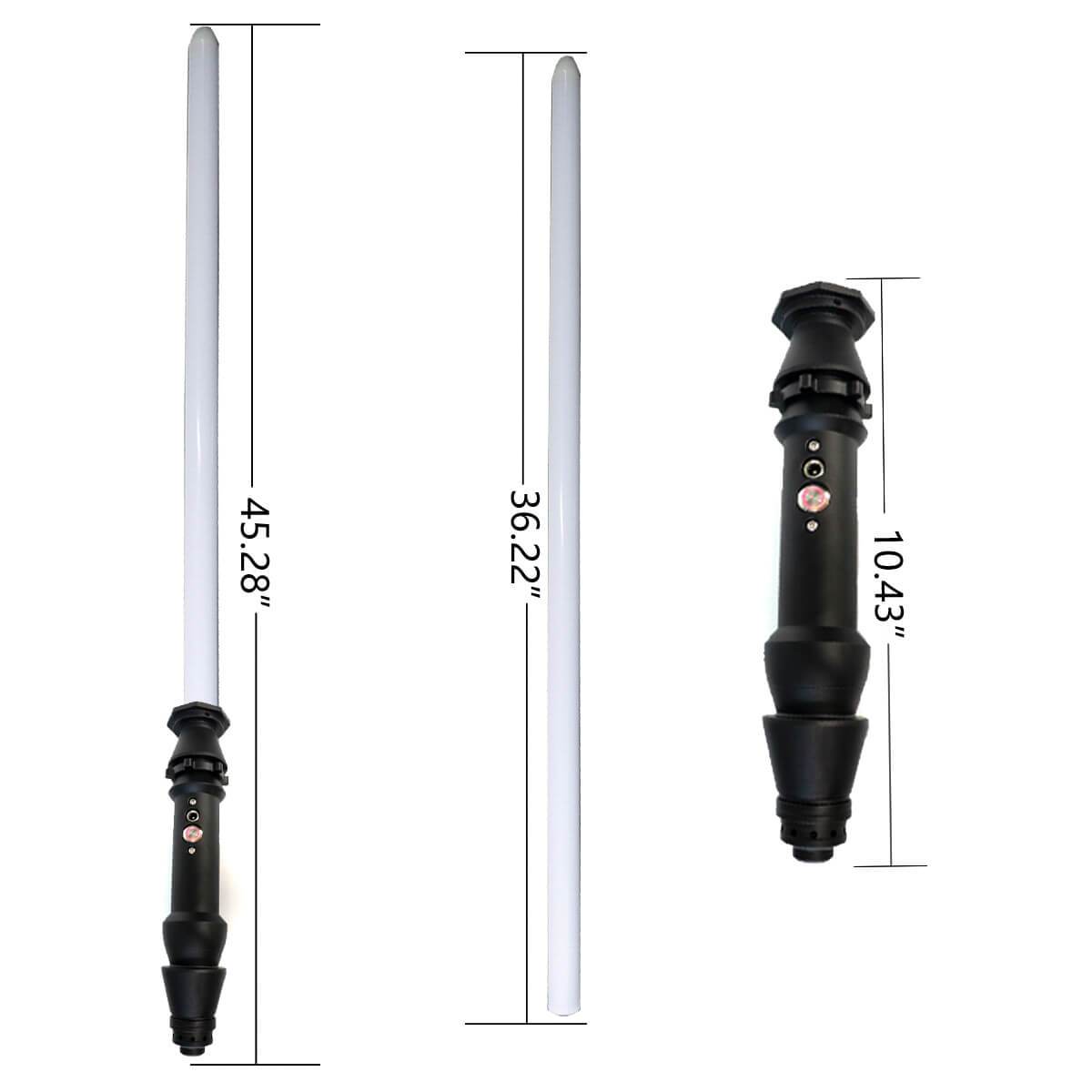 WHY ISABERS
Affordable Prices

We are proud to make cosplay affordable and realistic!

Faster Shipping

Parcels will be shipped within 24 hours, much faster than Amazon Prime!

Easier Returns

For every eligible items returned, we do not charge any restocking fees!

Trusted By More Users

You can see the recognition of our users from our reviews.
Product Details
RGB&Baselit

Functions

Gesture control
Duel ready
Flash on clash
Blaster block
Removable blade
Smooth swing
Multiple Colours

Features

2mm Polycarbonate blade
12w RGB LED
Bluetooth enabled
Safety protected 18650 3000mAh 3.7v Battery
SD card that you can add and remove sound fonts
over 30 sound fonts pre installed
Blade styles (unstable, stable and pulse)

Included in The Parcel

Saber Hilt *1
Polycarbonate Blade *1
USB Charger *1
Hex Wrench and Screw Set *1

Xenopixel

Functions

Gesture control
Duel Ready
Flash on clash
Blaster block
Removable blade
Smooth swing
Multiple Colors

Features

3mm Polycarbonate Neo blade
50w LGT RGB Neopixel strip
Bluetooth enabled
Safety protected 18650 3600mAh 3.7v Battery
SD card that you can add and remove fonts
Over 30 sound fonts pre installed
Blade styles (rainbow, candy, fire, unstable, cracked and more)
10 different ignition styles including blaster mode

Included in The Parcel

Saber Hilt *1
Polycarbonate Blade *1
USB Charger *1
Hex Wrench and Screw Set *1

Proffie

Fuctions

Duel Ready
Flash on clash
Blaster block
Removable blade
Smooth swing
Multiple Colours

Features

3mm Polycarbonate Neo Blade
50w LGT Neopixel blade
Safety protected 18650 3600mAh 3.7v Battery
SD card that you can add and remove fonts
Over 20 sound fonts pre installed
Completely programmable board regarded as the best on the market

Included in The Parcel

Saber Hilt *1
Polycarbonate Blade *1
USB Charger *1
Hex Wrench and Screw Set *1