Regular price
$389.00 USD
Regular price
Sale price
$389.00 USD
Unit price
per
Sale
Sold out
Program your swordsmanship and also experience this splendid Alxa Lightsaber.
The saber is among the new variations of Cross Guard saber lines, outfitted with saber blade and also Soundboard. This crossguard saber has two quillons or vents below the primary blade that are positioned contrary each other on the hilt. These quillons task two smaller blades, which supply a sword-like appearance that makes it beautiful and gives you an included protection for your battles. The Alxa saber is slightly larger than the common single-blade sabers and you can wield this saber with both hands. This saber provides you an amazing handle grip which makes it simpler to navigate and also play this lightsaber. Lightsaber is favored mostly by male adult wielders yet everyone can try it. With the lovely hilt, double lights, and also lightsaber results, it is excellent for your art as well as choreography as well as prepares you for dueling. If you like a saber that has a sword-like attribute, this one is a terrific choice.
Provides the enthusiasts, lovers, and also duelers this magnificent saber with sophisticated Soundboard. This has a single-tone handle color design with a black inner tube and a smooth black deal with offering it a solid look. The handle is 34-centimeter long and has a slender body as well as attractive black crowned emitter that appears like claws. The side-blades include even more beauty to this currently fantastic saber. This saber is created from superb quality hilt products, duel-grade and also shatter-proof Polycarbonate blade, and remarkable electronics modern technology. Our Soundboard is pre-loaded with our program that includes a variety of typefaces and lighting effects. With the Soundboard and saber blade, this brings saber magic right into your hands. This amazing saber is an exceptional screen in your collection, a dueling saber, or as the ideal companion for your outfit. As well as with its outstanding light as well as sound impacts, this saber warranties realistic as well as pleasurable lightsaber battles. This is a full-featured combat saber that comes full and all set to go.
FUNCTIONS
The Alxa Lightsaber's functions include Pre-Power ON, Blaster Deflection Effects, Lock-up Effect, Flash-On-Clash Effects, Volume Adjustment, Light Effective Adjustments, Force Sound Effect, Background Music, and Smooth Swing Effect.
FEATURES
Airplane-Grade Hilt - Made of high quality Aluminum Alloy 6063 material, 38cm length
Combat-Grade Blade

 - 

Made of high quality 36″ Polycarbonate material, 

3 millimeter thickness and 1 inch outer diameter
Brilliant  Light Colour

 - 

Super Bright 12 Watts RGB LED, Premium LED of infinite colors, 12 Preset Colors For Quick Selection
Changeable Light Effect - Neutral light, Stable and Unstable color

High-Quality Sound -Advance Sound Board With Premium Sounds, Motion Sensor Smooth Swing Sound
Multiple Sound Modes

 - 

9 Sets Sound Fonts and Mute (Darth Sidious, Leia, Kylo Ren, MandalorianDarksaber,General Kenobi, Cal Kestis, Darth Vader, Count Dooku, and Rey Skywalker)
Advanced configuration

 - Durable Internal Electronic Chassis
Premium Charging Mode

 - 

In-Hilt Recharge and Fast–Charging USB Charger, 3600mAh 18650 3.7V Safety Protected Battery
INCLUDED IN THE PARCEL
✓ Lightsaber Hilt (1)
✓ Polycarbonate Blade (1)
✓ USB charger (1)
✓ Hex wrench and screw set (1)
Share
View full details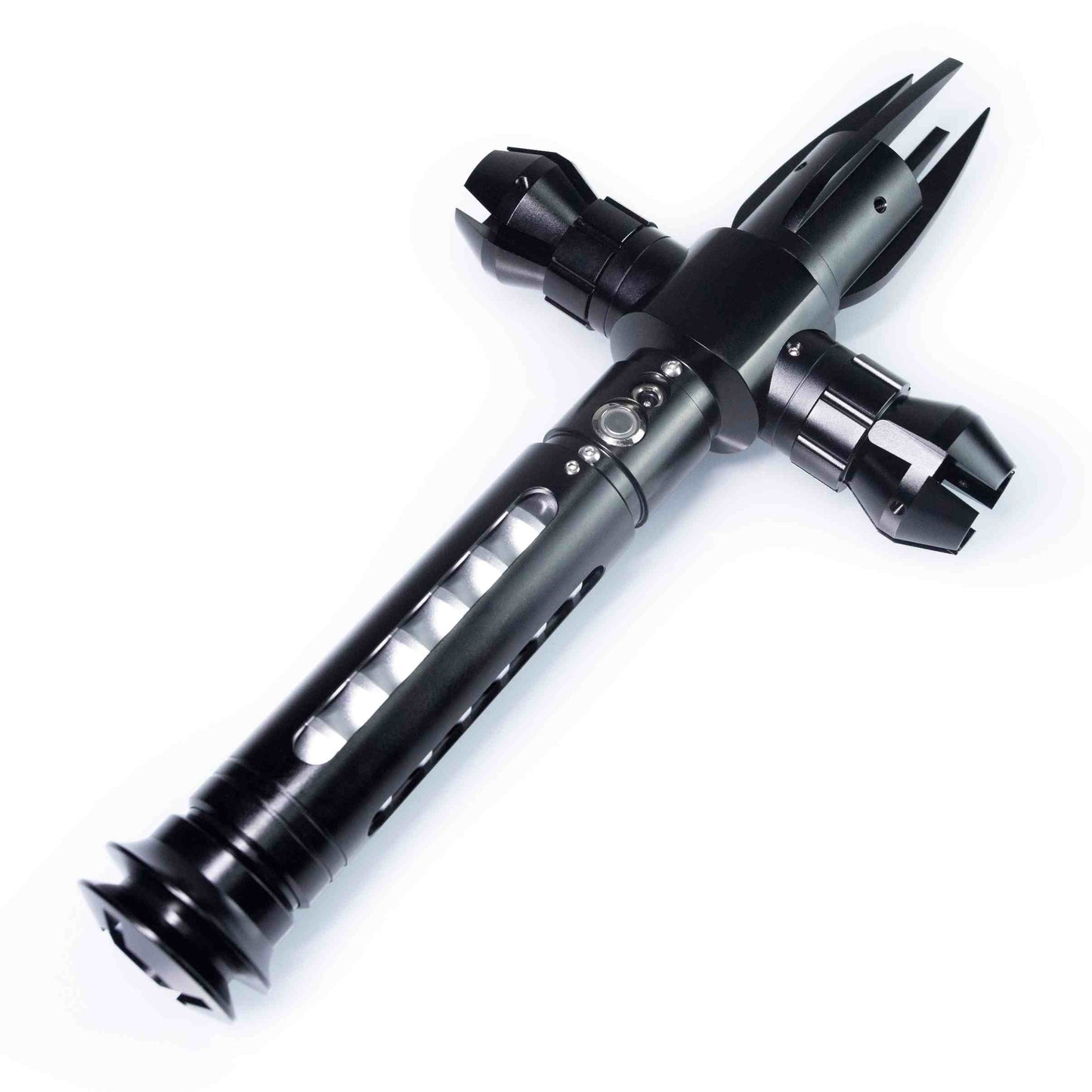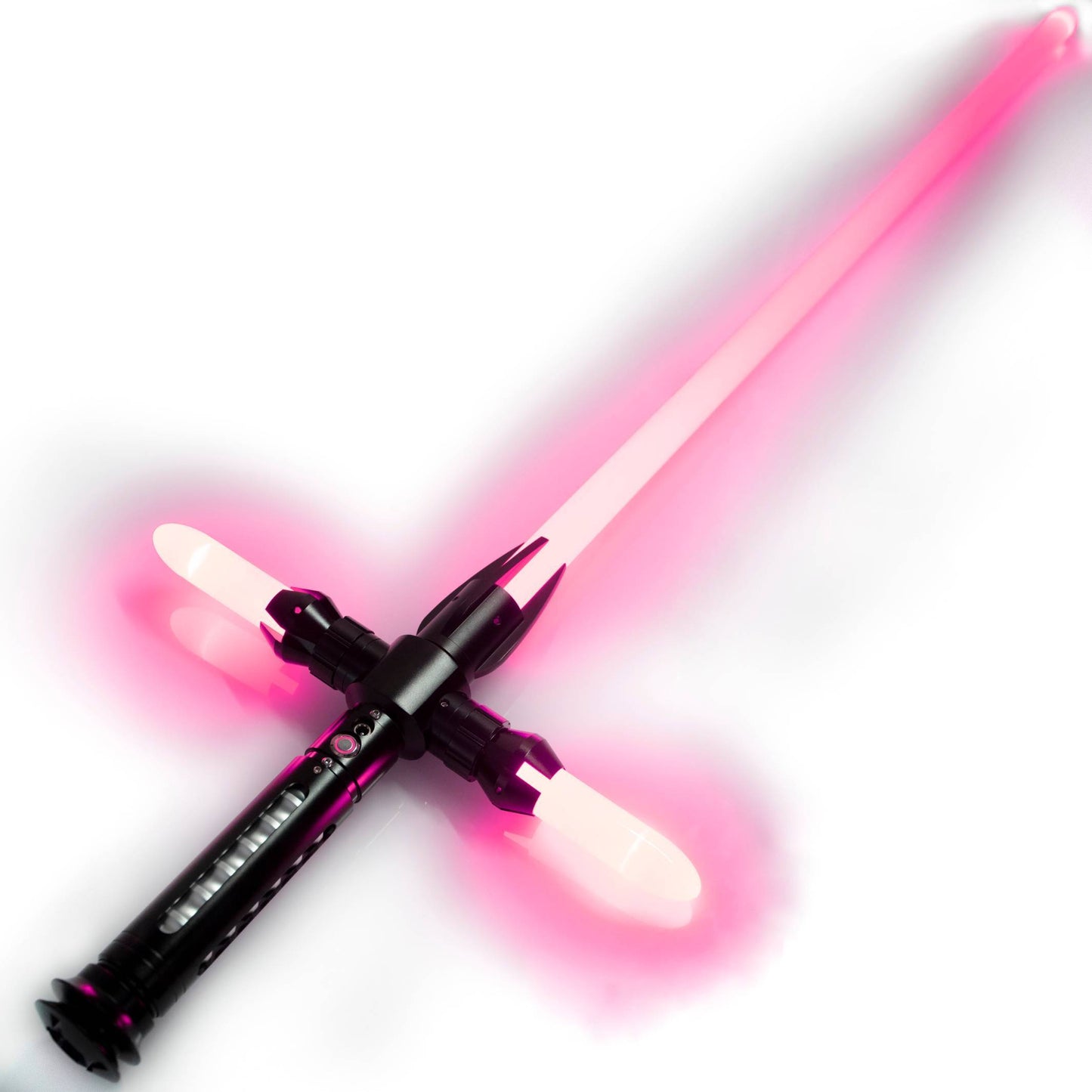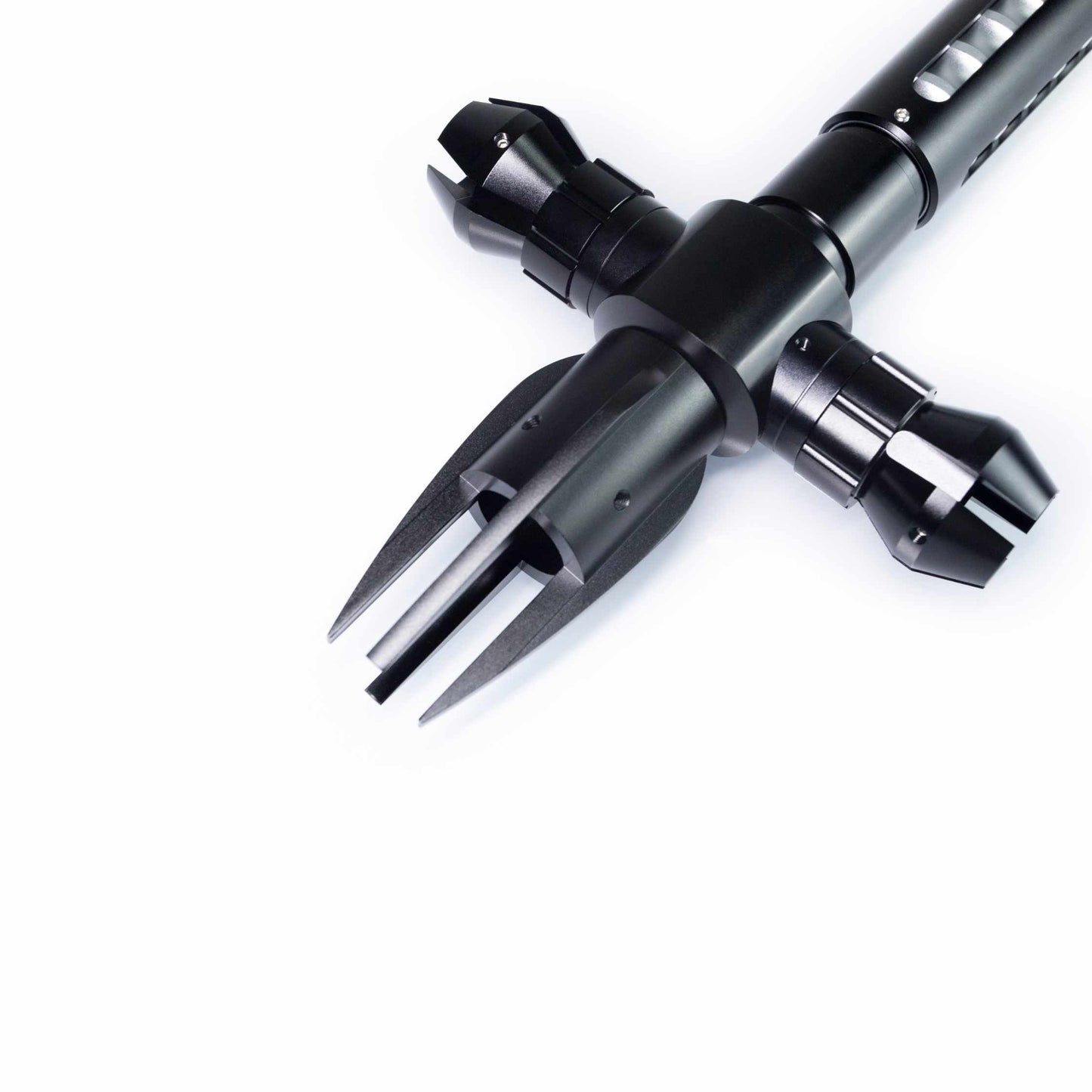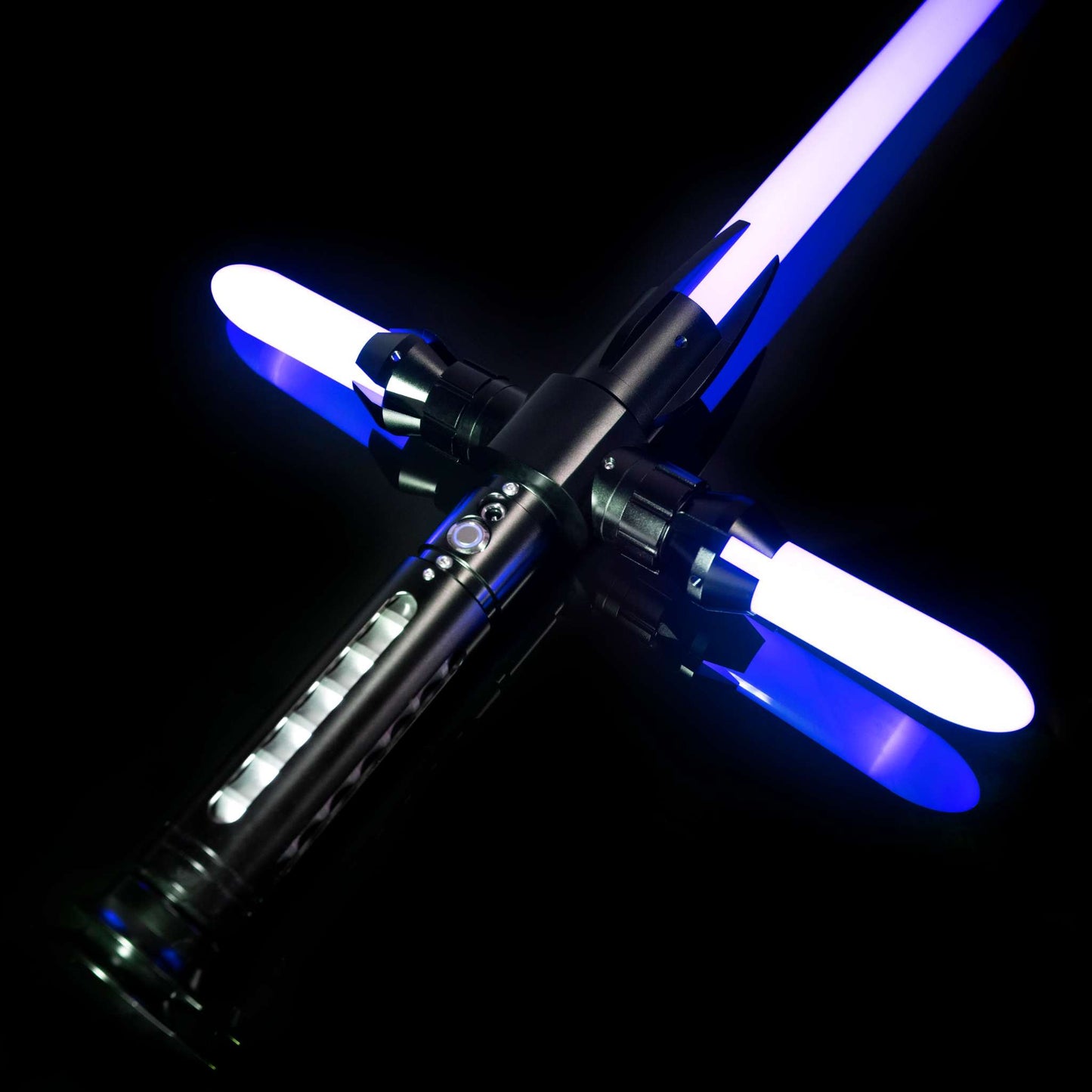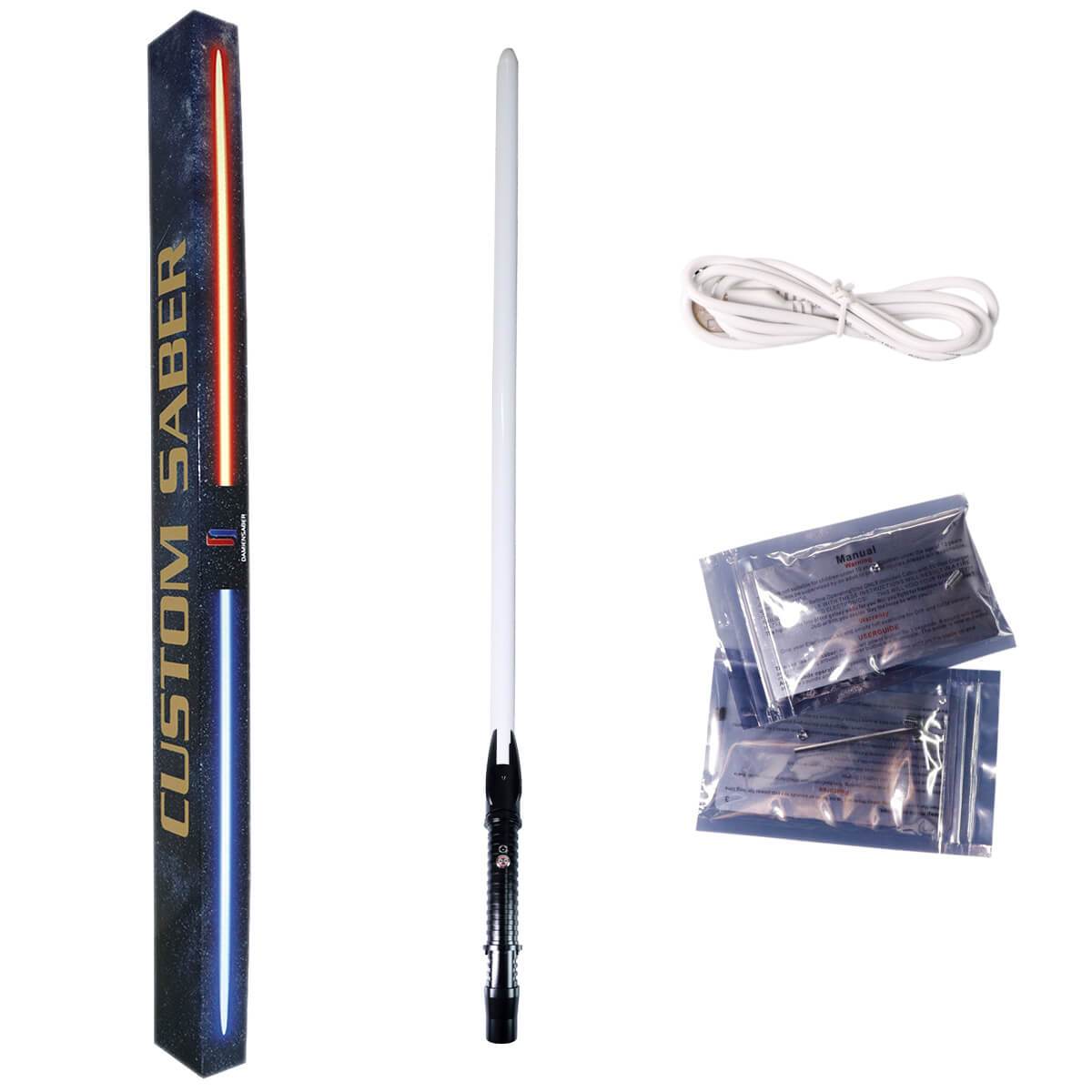 WHY ISABERS
Affordable Prices

We are proud to make cosplay affordable and realistic!

Faster Shipping

Parcels will be shipped within 24 hours, much faster than Amazon Prime!

Easier Returns

For every eligible items returned, we do not charge any restocking fees!

Trusted By More Users

You can see the recognition of our users from our reviews.
Product Details
RGB&Baselit

Functions

Gesture control
Duel ready
Flash on clash
Blaster block
Removable blade
Smooth swing
Multiple Colours

Features

2mm Polycarbonate blade
12w RGB LED
Bluetooth enabled
Safety protected 18650 3000mAh 3.7v Battery
SD card that you can add and remove sound fonts
over 30 sound fonts pre installed
Blade styles (unstable, stable and pulse)

Included in The Parcel

Saber Hilt *1
Polycarbonate Blade *1
USB Charger *1
Hex Wrench and Screw Set *1

Xenopixel

Functions

Gesture control
Duel Ready
Flash on clash
Blaster block
Removable blade
Smooth swing
Multiple Colors

Features

3mm Polycarbonate Neo blade
50w LGT RGB Neopixel strip
Bluetooth enabled
Safety protected 18650 3600mAh 3.7v Battery
SD card that you can add and remove fonts
Over 30 sound fonts pre installed
Blade styles (rainbow, candy, fire, unstable, cracked and more)
10 different ignition styles including blaster mode

Included in The Parcel

Saber Hilt *1
Polycarbonate Blade *1
USB Charger *1
Hex Wrench and Screw Set *1

Proffie

Fuctions

Duel Ready
Flash on clash
Blaster block
Removable blade
Smooth swing
Multiple Colours

Features

3mm Polycarbonate Neo Blade
50w LGT Neopixel blade
Safety protected 18650 3600mAh 3.7v Battery
SD card that you can add and remove fonts
Over 20 sound fonts pre installed
Completely programmable board regarded as the best on the market

Included in The Parcel

Saber Hilt *1
Polycarbonate Blade *1
USB Charger *1
Hex Wrench and Screw Set *1